GIFS' Omics and Precision Agriculture Laboratory (OPAL) is the first lab in Western Canada to offer genomics analyses services using PacBio's new Revio DNA sequencer, the highest-capacity instrument the manufacturer has produced.
The addition of Revio and other investments in high-throughput infrastructure and automation have significantly expanded OPAL's scale and efficiency, increasing its ability to provide high-quality, lower-cost services. These at-scale analytics will help accelerate research in the agriculture, food, and health fields.
"At GIFS, we are committed to accelerating research, development, and commercialization within agri-food and providing impactful services that enhance the entire innovation ecosystem. Our investments in PacBio's Revio system and other advanced sequencing instruments are bringing leading-edge technologies to Saskatchewan and Western Canada and supporting our research community's position at the forefront of discovery," said Steve Webb, chief executive officer of GIFS.
"OPAL's capacity and complete suite of long- and short-read DNA sequencing technology is unique in Canada and comparable to large national laboratories in the United States. With these tools, our team of experts are providing high-quality data to help advance the discovery, development, and delivery of new innovations within agri-food and other industries."
Since its launch in 2021, OPAL has established itself as a premier platform for omics technology with a reputation for scientific excellence and innovation.
OPAL was previously the first laboratory in Western Canada to offer long, highly accurate HiFi reads from PacBio's Sequel IIe DNA sequencing system. The new Revio system features several enhancements over the earlier generation of single-molecule real-time sequencing (SMRT) technology, including shorter run times and the ability to sequence up to 15 times more genomic data per day.
"The Global Institute for Food Security is a state-of-the-art facility providing genomics, phenomics, and bioinformatics services to researchers around the world in a variety of applications. We are honoured that this trusted service provider has chosen to add the Revio sequencing system to their world-class core lab," said Lara Toerien, vice-president and general manager for the Americas at PacBio.
"The game-changing Revio system is a giant leap forward that enables customers to dramatically scale their use of PacBio's celebrated HiFi sequencing technology at an extremely competitive price. This will allow more customers access to the most complete and accurate sequencing data on the market today and benefit the scientific community as a whole. I'm excited to see what researchers can discover using the power of HiFi sequencing on Revio."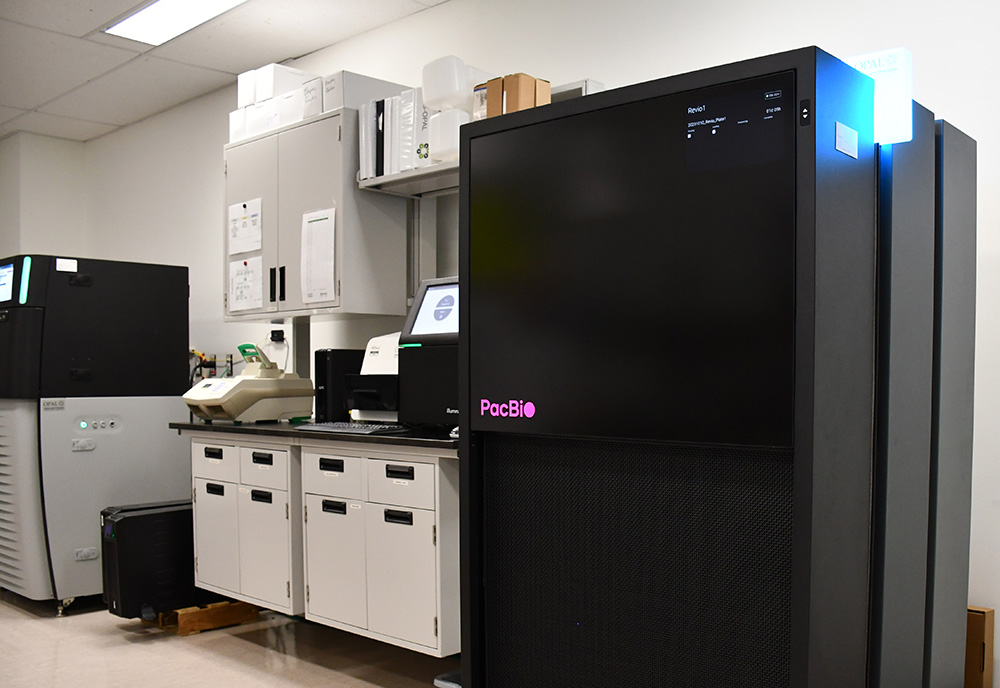 OPAL is the first lab in Western Canada equipped with PacBio's new Revio DNA sequencer.
With a unique specialty in agri-food research, the OPAL team has become a trusted partner to researchers in Western Canada and around the world, contributing to hundreds of projects examining microbial, plant and animal genes and traits.
The laboratory has contributed sequencing work to many large initiatives, including the international, USask-led effort that sequenced the genomes for 15 wheat varieties — a significant accomplishment that is supporting the development of new higher-yielding, more resilient wheat varieties.
The technology and expertise at OPAL, however, provide the laboratory with the capacity to analyze samples from other sources — everything from bacteria to humans.
Today, the laboratory is now serving a growing number of researchers outside of agriculture who are benefiting from OPAL's services, including genomics to analyze DNA, transcriptomics to analyze gene expression and bioinformatics to analyze these and other biological data. These services also include PacBio's Iso-Seq technique for sequencing RNA molecules with long reads to achieve greater resolution than was possible using older methods.
"We're incredibly proud of the partnerships we've made within the agri-food sector and the exciting research that we are supporting — and we're just getting started," said Carla Protsko, OPAL business lead at GIFS.
"Today, we are equipped to support more partners across the value chain than ever before. Whether you're in agriculture or health, natural or environmental sciences, you don't have to send samples across the country for analysis. We have the leading-edge omics technology and talented team in Saskatoon's thriving biotechnology industry. From here in Western Canada, we have a national and global reach and can assist your research at scale."